Who we are
Sail into adventure with the best sailing tours!
Welcome to Sail PR! Come sail with us and experience the beauty of the island from the water. We offer small, intimate sailing experiences that will allow you to see all the best that Old San Juan has to offer, from historical landmarks to stunning natural scenery. Our tours are perfect for families looking to create a unique memory, couples wanting a romantic sail and small groups of friends wanting a private boat for themselves.
Our boat is meticulously maintained and our experienced, professional staff strive to provide the best sailing experience in Puerto Rico. Sit back with a drink in hand and enjoy the sights.
Book your sail online today and enjoy the beauty of Puerto Rico.
Sailing Tours & Private Charters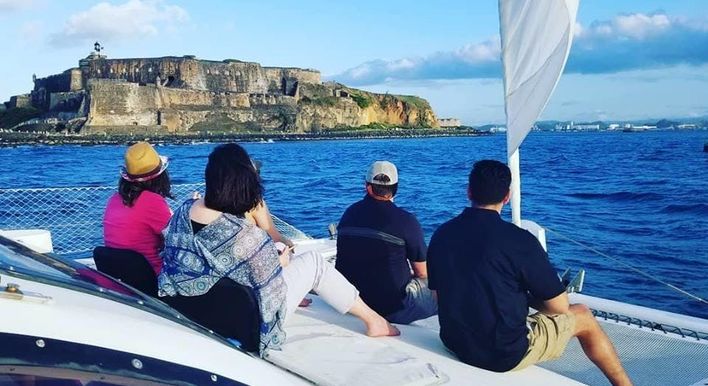 Duration
1 hour 30 minutes
Enjoy a unique start to your morning, sailing on our spacious catamaran taking in the sights of Old San Juan from the bay.
Make yourself comfortable on the front net and take some sun in or sit back in the shaded cockpit area and sip your drink of choice as we narrate some historical facts along the way.
This one-hour and 30-minute sail includes bottomless mimosas, house rum punch, local Medalla beer, rum and cokes, orange and pineapple juice, soda, and water.
6 spaces are available per sail. To book privately for yourself or a group choose Private Charter.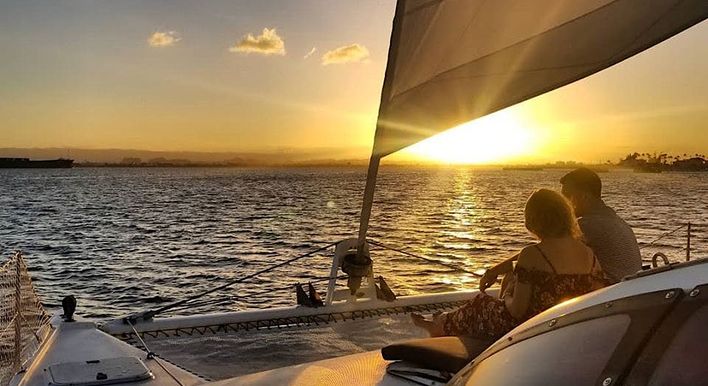 Our most popular sail! A relaxing cruise around the calm waters of San Juan Bay to enjoy a beautiful sunset and a perfect start to your evening.
See Old San Juan as it changes from daytime to sunset colors and then city lights coming on at night as we are headed back to the marina.
Our two-hour sailing route stays within the calm, protected waters of San Juan Bay for a relaxing experience.
Complimentary refreshments include Prosecco or Cava sparkling wine, our special house rum punch, local Medalla beer, rum and cokes, orange and pineapple juice, soda, or water.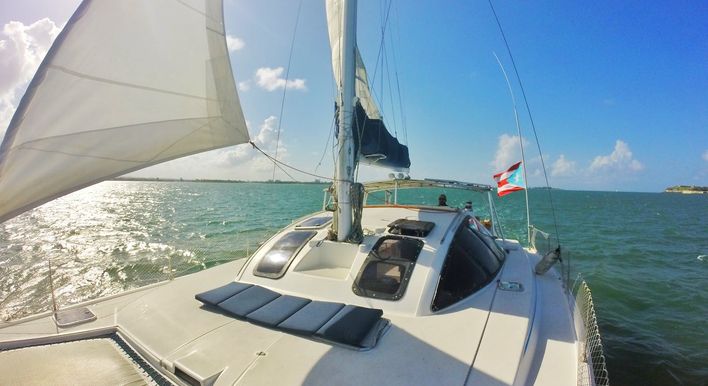 Duration
1 hour 30 minutes
Soak in the sun with a drink in hand while taking in the sights of Old San Juan and Cataño from a unique point of view.
While the sun is fully out during the time of this sail, the back cockpit area of our catamaran is shaded so you can also enjoy the sail without being subject to the sun.
Bring your lunch and enjoy it aboard; we provide the drinks! Choose from mimosas, house rum punch, local Medalla beer, rum and cokes, orange and pineapple juice, soda, or water.
Our hour and a half sailing route stays within the calm, protected waters of San Juan Bay. Open ocean sail available upon request dependent on weather.
6 spaces available per sail. To book privately for yourself or group choose the Private Charter.
Top-rated San Juan sails!
We offer the best sailing experiences in Puerto Rico! We have been consistently top-rated in multiple review sites and earned various recognitions. We provide personal attention and top notch service with our crew of expert sailors and hosts. With 3 different sail times to choose from daily, it's easy to fit a great sail into your day. Let us take care of everything aboard so you can unwind and relax.
Environmentally Friendly
In an effort to reduce plastic waste in our seas, we do not serve single-use plastics such as straws and water bottles. We provide 100% Britta filtered water. You are welcome to bring along your reusable bottle and we will fill it up for you. We use compostable cups aboard for included drinks.
Catamaran Sailboat
Our Ohana 2 is defined as "a yacht or other boat with twin hulls in parallel (imagine two separate big canoes joined together by a platform)" it is the most stable sailing experience you can get while still having a full sailing experience feeling the wind in your face and the fluid motion of the ocean. Equipped with a forward net to lay out, shaded area, spacious cabin in case of rain and full bathroom inside your comfort needs are met for a great sail!
Special Sailebrations
What better way to celebrate a special occasion than on a great sail with your loved ones or friends? We'll make your engagement proposal, birthday party, anniversary, etc. even more special. Let us know of any special requests you may have such as helping to arrange a surprise birthday cake (additional cost), candid pictures, recording of your proposal, or anything else we can do to make your sail memorable.
My family and I took an afternoon sail with Willie and Pedro, and we had the best time. They were friendly, accommodating, and fun to talk to! I highly recommend this to anyone looking for a chill activity.
Markelle P.
25th May 2023
Celebrated my birthday in San Juan and decided to do a day sail! Best choice ever, Captain willie and coco was great and drinks made the hot day better!
This was my first experience but definitely will not be my last! The Captain and his first mate Hector was amazingly and super informative. Willie and Hector were super encouraging and because of this experience I will definitely try this experience again! My husband who is not a big smiler could not stop smiling!!!
Inspiration617287
20th May 2023
My gf and I had a great time ! Pedro was amazing. I def recommend sailing with them. It was a beautiful day on the water and we learned a lot of history about San Juan.
Best way to kick off a trip to PR for SURE!! Pedro and Jonathan were kind, gave us space to chat but also shared fun facts about the city and made sure our drinks were always full! Would love to do again!
So if you're looking for a nice tour/sail and you want to look cute while you're doing it-book them. This was a very nice, chic, classy sail. The guys were laid back but also professional. I could have sailed all day with them and been ok. Loved it!!
Great trip, not over crowded. Captain and mate were incredibly nice and friendly. I Would recommend.
This was possibly the best part of our trip. The captain and first mate were kind, relaxed, and made sure we had a ton of fun. I could do this every day I'm in PR and nothing else and be happy.
The views, the history, and great customer service. Everyone on the boat was very nice and the time for the cruise was perfect.
Previous
Next
Location
Set Sail on a perfect adventure in San Juan, Puerto Rico
San Juan is located in the subtropical region and is the capital of Puerto Rico. It is one of the most visited cities in the world. The main sightseeing attractions include Old San Juan, El Morro, La Fortaleza and Castillo de San Cristóbal. The culture of this City is influenced by its multicultural past and enjoys the reputation of being full of passionate people in music, art and family traditions!
The climate and geography of San Juan, Puerto Rico make it a popular tourist destination. Food is a big part of this place and you won't be disappointed with the local cuisine such as mofongo, a plantain mash or churrasco steak. The flavors of the island are a fantastic combination that you must experience when you visit the city.
Frequently asked questions
Most frequent questions and answers